NEWYou can now listen to Fox News articles!
It didn't take place on the iconic center court, but the Wimbledon 2022 third-round match between No.4 Stefanos Tsitsipas and Nick Kyrgios provided fans with the most exciting viewing of the tournament yet.
Kyrgios, known for his fighting spirit on the pitch, showed it here but overcame himself to defeat Tsitsipas 6-7(2) 6-4 6-3 7-6(7).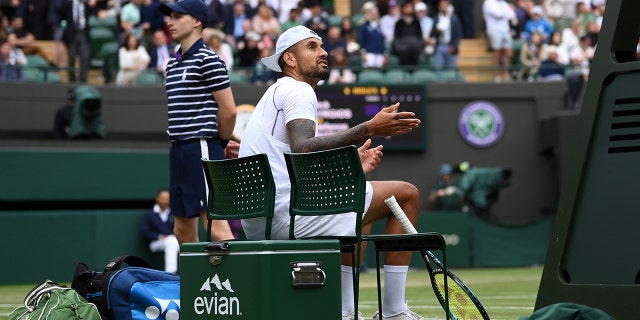 The peak of Kyrgios' frustration came before the crucial third set after he won the second set 6-4. Tsitsipas, frustrated after dropping the set, backhanded a ball into the stands, which usually resulted in disciplinary action from the chair umpire.
WIMBLEDON 2022: NICK KYRGIOS IS FINED US$ 10,000 for spitting on an intercepting fan
Kyrgios argued Tsitsipas should have defaulted for the action. Chair umpire Damien Dumusois saw things differently and prompted Kyrgios to protest briefly.
"You can't hit a ball in a crowd and hit someone and not default," Kyrgios shouted at Dumusois. "I'd like to speak to a manager. I won't play until I've spoken to a manager. Bring out more managers. I am not ready yet. Bring them all out."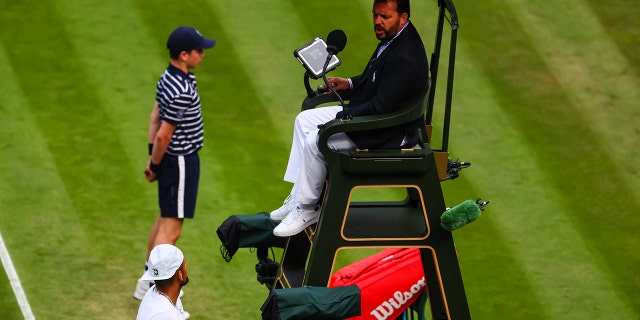 Kyrgios wasn't done with his theatrics, calling Dumusois a disgrace and receiving a code violation for swearing shortly after.
"The amount of shit the tournament is going to get after this press conference," Kyrgios said during the blast.
CLICK HERE FOR MORE SPORTS REPORTS ON FOXNEWS.COM
Kyrgios was able to regain his composure in the third set but not before Tsitsipas showed his fiery side on the pitch. Tsitsipas met the Australian three times in around five minutes, furious at Kyrgios' attitude.
The theatrics were in the game on the pitch – especially in the fourth set – which had to be decided by a tie-break. Kyrgios claimed both the set and match win and let out a thunderous roar in celebration.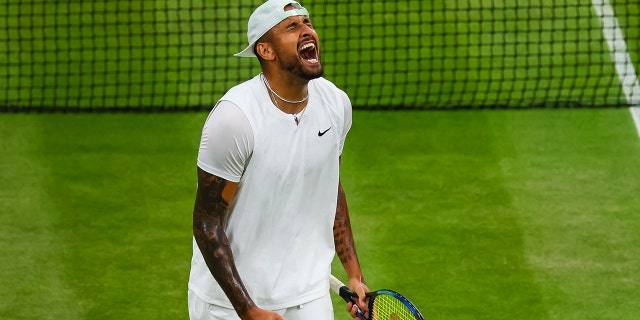 After the game, Kyrgios said he had the 'ultimate respect' for Tsitsipas.
CLICK HERE TO GET THE FOX NEWS APP
"I felt like the favorite to come in. I played a couple of weeks ago but I knew it was going to be a tough game," said Kyrgios. "He's a damn good player and it was a damn good game. I'm just super happy to be further. He was frustrated at times – it's a frustrating sport. They all think they can play but it's very frustrating.
"I have absolute respect for him. Whatever happens in the sport, I love him and am so close to his brother…"
Not only did Kyrgios notch up one of the biggest wins of his individual career, he also advanced into the Sweet 16 for the first time since 2016 at Wimbledon. Next up for Kyrgios is a matchup against unseeded American Brandon Nakashima on Monday.