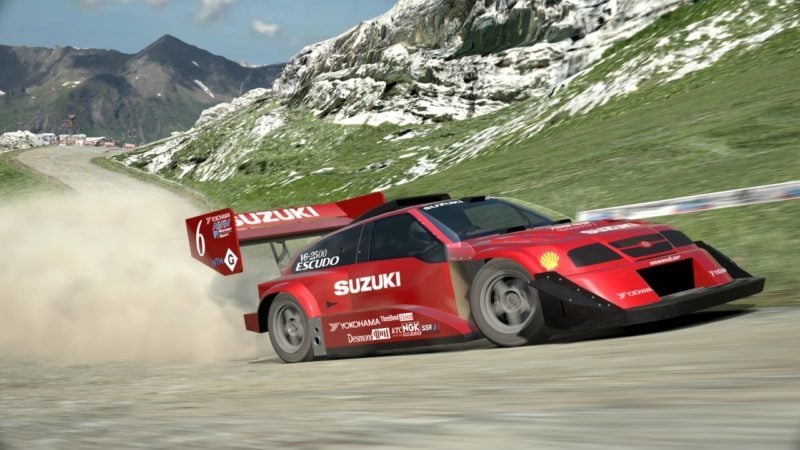 The next update for Gran Turismo 7 is coming this week and will bring one of the franchise's most iconic vehicles back to the car roster for the first time in a decade.
Kazunori Yamauchi, Studio Head of Polypony Digital, unveiled the update on Twitter, posting on Sunday, April 19:
Alongside this, Yamauchi posted what has now become a tradition: a composite image of the cars coming for the update, in profile but heavily shaded. This revealed that the update would bring three additional vehicles, which seems to be the monthly norm GT7.
The three cars seem fairly easy to identify, with the top one in particular being something of a giveaway thanks to a giant splitter, huge rear wing and colossal roof scoop.
It's pretty clear that it's the Suzuki Escudo Pikes Peak, a 1,000hp hillclimb racer built for Nobuhiro "Monster" Tajima to compete in some of the world's highest races.
Based on a Grand Vitara (or Escudo in its native Japan), the car features a turbocharged Suzuki V6 – 2.5 liters in the early model, 2.7 liters for the later car – producing nearly four figures to cope with thin mountain air. This also explains the gigantic wings, which are said to generate downforce even at 14,000 feet above sea level.
The Escudo Pikes Peak first appeared in Gran Turismo 2replaced by a later car from 1998 – what the car for GT7 also seems to be – appears off Gran Turismo 3 to Gran Turismo 6. It became a fan favorite not only for its ridiculous speed, but also for the fact that with certain settings it could break through the game's physics and accelerate to as much as 2.15 billion miles per hour…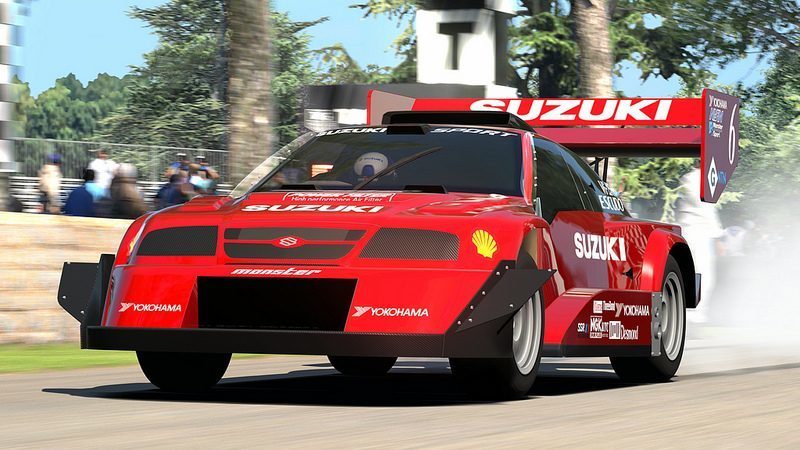 Although it will be the obvious center of attention, the update also includes two other cars. The first of these appears to be a Gr.3 version of the recent Suzuki Vision Gran Turismo.
This was a car that resisted identification when Yamauchi unveiled it in a previous Silhouette post, but it's a fun machine that combines a Hayabusa motorcycle engine with electric propulsion. The Gr.3 model will likely add large wings and a dose more power, although its light weight will prove difficult to even out with the rest of the class.
That leaves the third car that appears to be new to the series and looks like a convertible version of the 1932 Ford or Deuce Roadster. Identifying it more precisely is difficult given that it's an extremely popular hot rod – making it likely that it's a car Polyphony Digital has seen at SEMA in the past.
There's currently no indication that anything else is coming to the game in the update, but fans are hoping for new tracks – and new events to race on.
Only one track came into play after the start and that was a very slightly modified version of an existing one – adding the 24 hour pit lane and start/finish to the Circuit de Spa-Francorchamps. A gap in the current GT World Series schedule for July 1 suggests a new circuit is possible but not inevitable.
Additionally, players are still waiting for the ability to sell cars to get into the game, which Yamauchi flagged as a "short-term" prospect back in March, while open lobbies issues are significantly more limited than GT sport's versions are also a high priority for many.
We'll know more about the update, especially if players can expect it, as we get more information – so keep an eye on this area!
See other Gran Turismo 7 game update articles.