Photograph by Jeremiah Klein
Aimed as a go-to surfboard that performs well in a variety of conditions, The Happy Everyday is the latest addition to Channel Islands' Happy Shortboard Series (which joins the Two Happy and Happy Traveler models). If you even have a quiver, you probably already have a board for everything – you've got your slab board and your point board, your grobbler and your step-up; but that doesn't necessarily mean you have one board for everything. I test rode the Happy Everyday every day for several weeks in different waves – Currumbin Alley, Snapper Rocks, Duranbah, T-Street, Upper Trestles, HB Southside, HB Northside – to see if it held up and I was happy too.
The dimensions of the Happy Everyday I tested were:
5 ft 10 in x 19.75 in x 2.5 in, 30.9 L, built with Spinetek
FCS Fins: Mick Fannings, Mayhems, Channel Island Uprights
The pitch
Says Channel Islands about Happy Everyday:
"Developed by Britt Merrick from the original Two Happy Performance Shortboard model, our new Happy Everyday fills a need in every surfer's quiver: the Everyday Shortboard. Britt wanted to design the Two Happy's performance attributes, but modify them to suit the everyday conditions most of us encounter. To achieve this goal, Britt shortened the rail to create a more curvy contour, particularly in the tail section. He lowered both the entry and exit rockers to increase paddling and planing speed and cover a wider range of conditions. The single concave under the front foot acts as an accelerator and the generous double concave through the fins provides ease from rail to rail and plenty of lift in small gear."
The design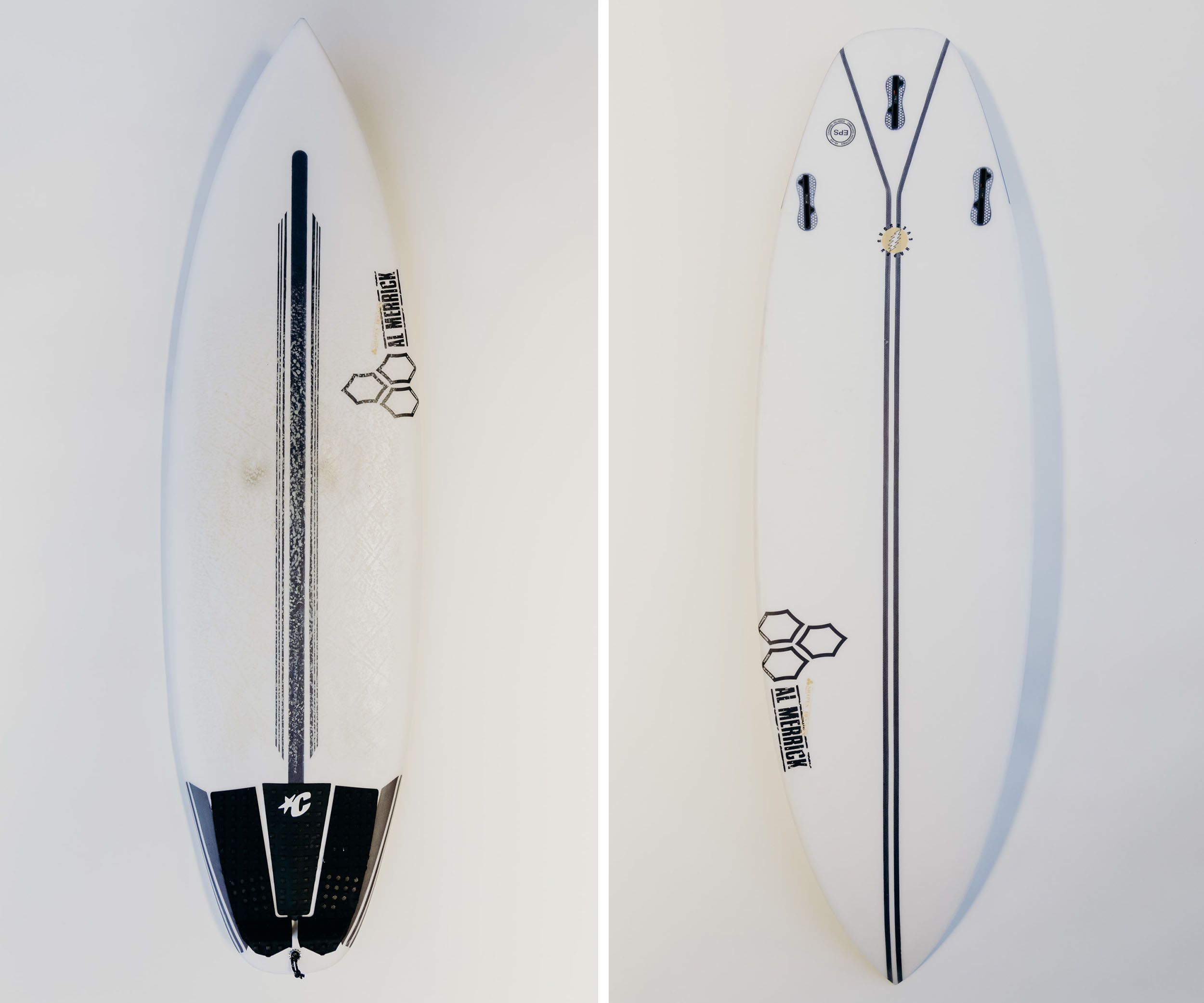 Initially, CI's main goal was to deliver a cohesive family of boards that all felt familiar, allowing a surfer to hop from model to model with ease. So the Happy Everyday was initially built to complement the other two Happy models (Two Happy and Happy Traveler) to simplify the decision-making process when buying a new board.
First and foremost, this is a small wave performance board. The shape of the airplane is more generous in outline than in other Happy models. There's also more nose area, a wider tail block and the Merrick hip (slight bump in the contour, just above the fins). A keen eye will also notice similarities to the Curren Red Beauty, where the hip is used as a breaking point in the contour. There is also a straight section through the middle. All of this helps with planing speed.
The foil is full which means it feels a little higher in the hand making it easy to paddle and get into the waves easier. Once you're on top, it's easy to get going thanks to the increased planing surface and moderate single concave under your forefoot that transitions to double concave between the fins. The speed is plentiful.
There's a graduated rocker – as opposed to the continuous rocker curve found in most Channel Islands boards – that's low-entry rocker right in front of the fins that kicks back where the outline breaks, or breaks it a lot subtle hip in front of fins. The flat part of the seesaw—the space between your feet—is where you feel the most propulsion. If you lie above it in a bottom turn, you'll feel it push you forward. Put your back foot in, however, and you'll notice some looseness due to the curvature there. It provides a nice balance between driving and panning.
the performance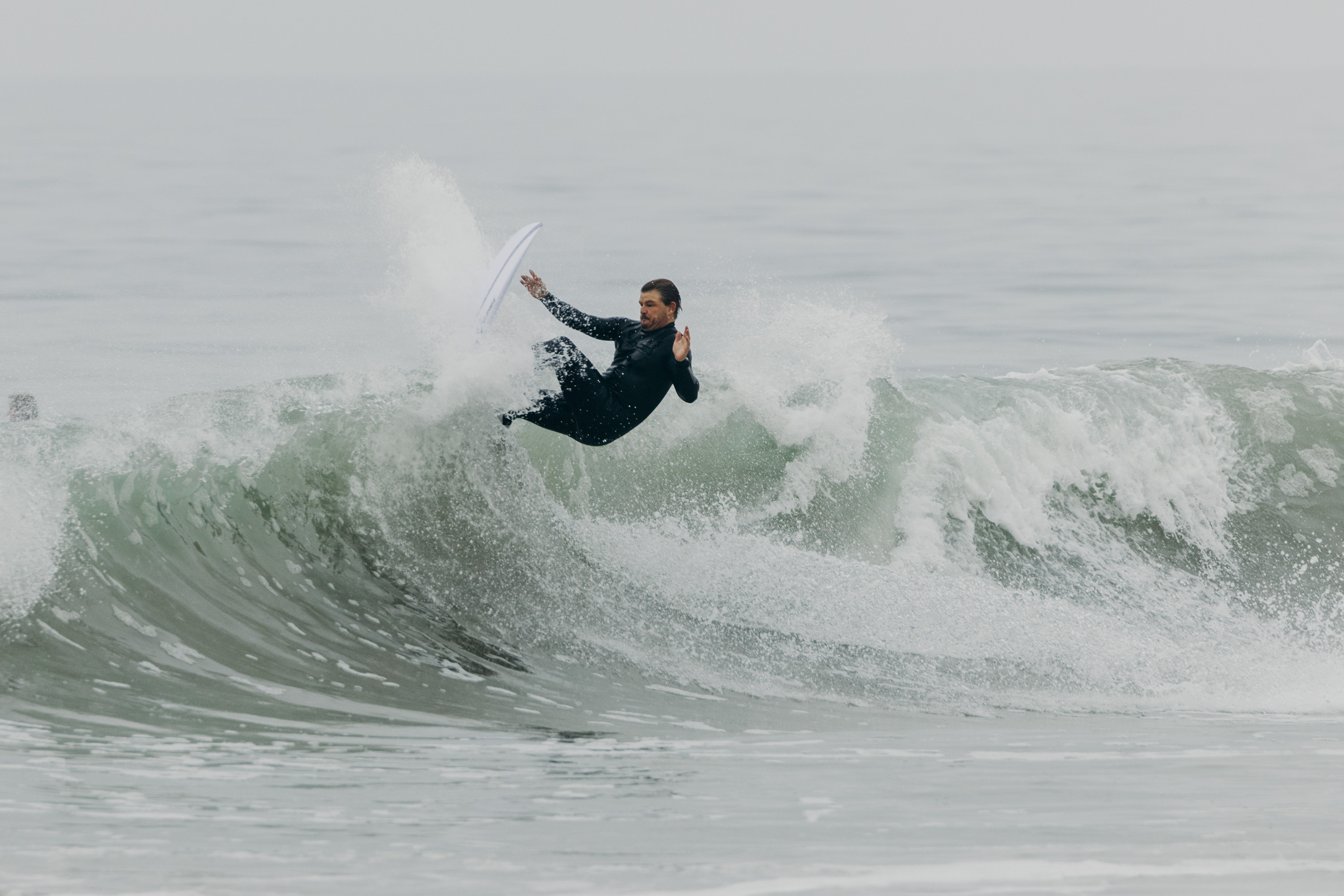 Statistics: 12 sessions; 90 waves; Top speed: 36.5 km/h (Currumbin Alley); Longest ride: 299 m (Snapper Rocks)
The Happy Everyday likes a more vertical, straight-forward approach, and I'm generally more horizontal and carve-focused. However, the impact of the spinetek got me excited to try a few lunch dishes. I was amazed at how quickly I could whip out a turn with the concave. The extra lift I got as I rode through was addictive. And with this Spinetek I could really feel the flex through cutbacks and bottom turns. It has that springy feel, almost like the board stops for a millisecond before catapulting you into the next part of the turn.
You could use your regular shortboard length but may find it too bulky. I suggest riding it two inches shorter where you will enjoy that ride more. You will likely go faster and also be able to negotiate corners more easily. Shaving two inches off your go-to shorty would make a world of difference, even if it means waiting a few extra weeks for a custom; Otherwise you will probably have too much foam under you and it will feel really booty. I took the 5'10″ which is the same length as my regular shortboard and after speaking to Devon Howard from the Channel Islands about some issues I was having it became clear that I would have to take a 5'8″ instead must. Shrinking the railline by two inches has a huge impact on how you surf a board. My weight distribution, my posture, how I turned and my ability to find the sweet spot… It all got out of whack at 5'10. On some of my small wave surfs I felt like I was pushing water and on some of my bigger wave surfs I felt like I couldn't get past the rail in a turn.
It's fair to say that initially this was a challenging board. But once I installed the Channel Islands Upright FCS fins and stayed in 1-3ft surf I found some bright sparks and it became easier to enjoy the board. The Happy Everyday might work in anything you throw at it, but it worked best in small beach breaks for me.
The fins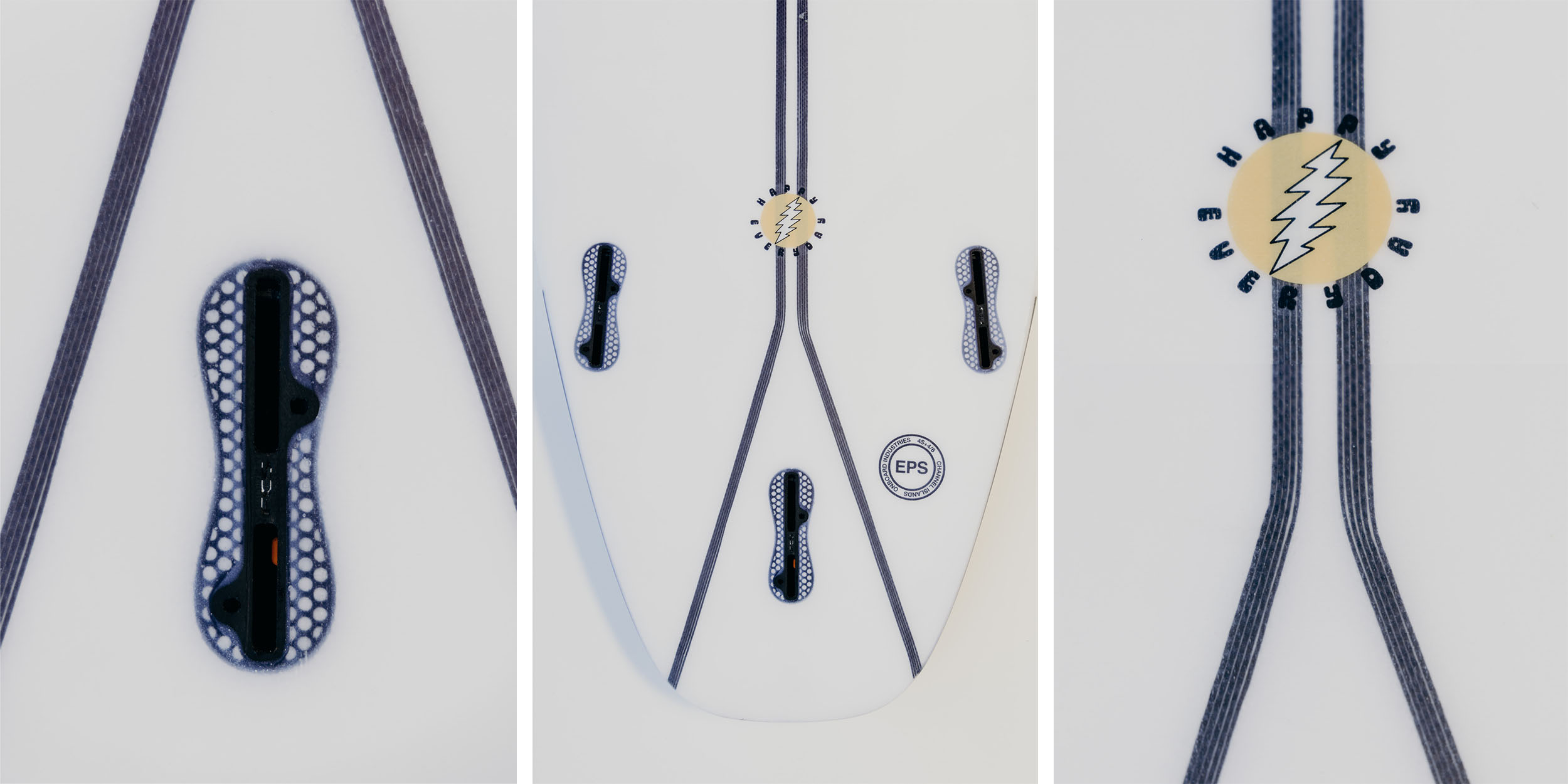 Use whichever template you're most comfortable with and branch out from there as you become more comfortable with the board. My favorite FCS template is Mayhem Large. I enjoy the flat film because it's uncomplicated. Also, I'm a big fan of tri-fins, which are all the same size, and the upright, MF, and mayhem fins were all the same size across the entire set. Initially I started with Mayhems, then tried Mick Fannings and then ended up with the Channel Islands Uprights. And for someone who lives and dies by the Mayhem template, I can honestly say that the Happy Everyday suits the Channel Islands Uprights better. I got a better skate feeling and was moving noticeably faster and faster as I got up and rode. But the bigger the surf got, the more I wanted a sturdier fin. When the surf topped a meter, I swapped the uprights for the mayhems and immediately gained more drive and control.
The judgment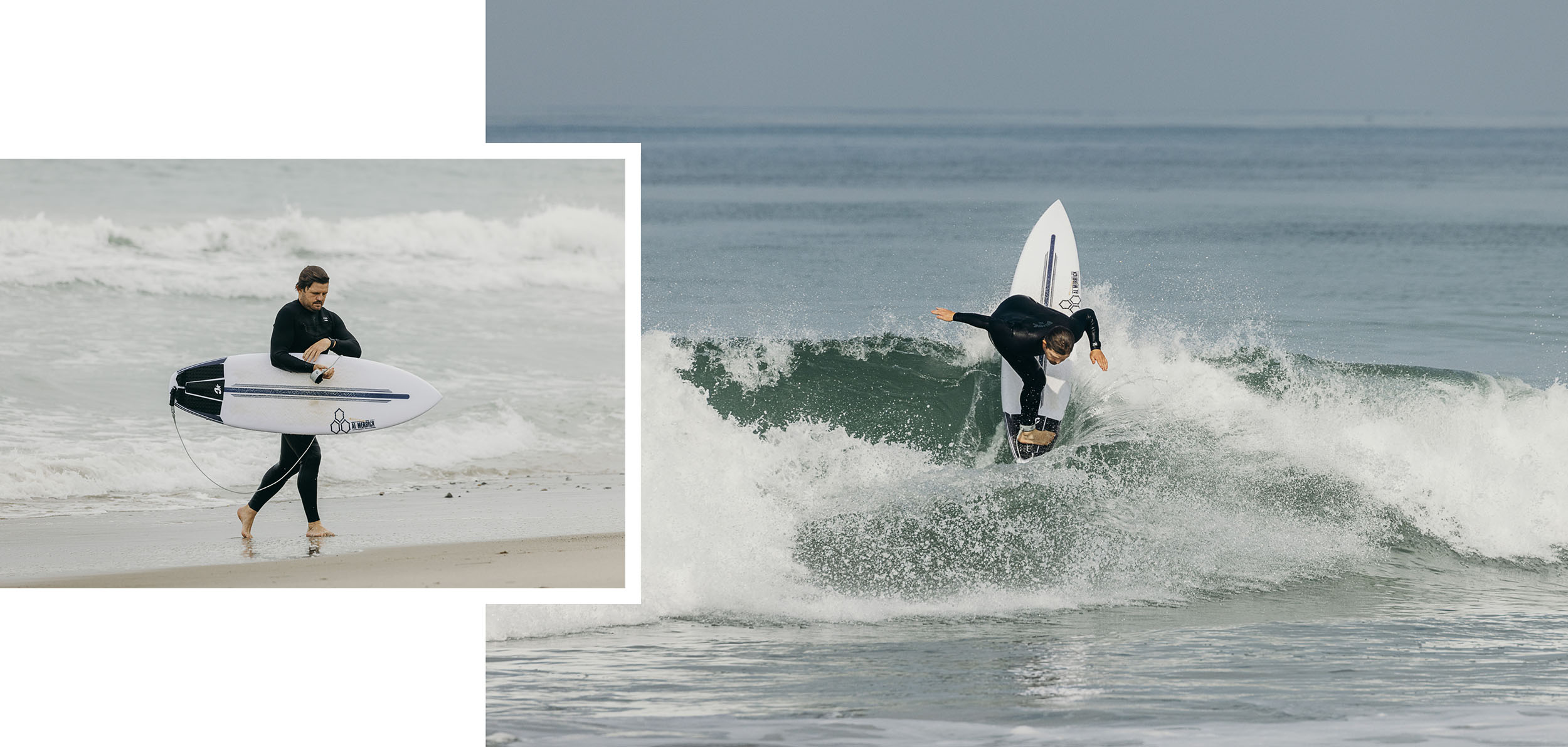 I wasn't Happy Everyday on this board. It presented a few challenges and it took me quite a while to find fun riding it, but I love a challenging board and eventually found some endearing qualities. The model is full of energy, gets up and leaves. Add it to a Two Happy and a Happy Traveler and you have a solid triple board quiver.
So, would I buy this board? Definitely, but I would probably get a custom 5'8″ in PU. That way I could play with the width and thickness as their standard 5'8″ dimmings don't work for me. And you should when shopping note – the stock dims aren't always for everyone, making it a gamble to get one off the shelf, but if you're struggling to fill that hole in your quiver – a surfboard to master everyday surfing – and If your current options don't excite you, Happy Everyday is worth a try.
Obtain
Buy direct from Channel Islands Surfboards in Australia or the USA
Prices vary, but expect around $1,225 in Australia and $955 in the US for the Spinetek option; $950 in Australia and $775 in the US for the PU option.
***
Other board reviews: Campbell Brothers Alpha Omega | Rusty Barrel | Christensen Lane Splitter
***
ABOUT SURFLINE GEAR REVIEWS
We're all excited to find the perfect board, suit, leash or whatever that will help us do what we love most – surfing. And before you spend your hard-earned cash, Surfline is here to help you in your decision-making process by developing features that provide honest, thoughtful feedback on the products we review, so you can make a more informed choice before you buy them spend.
Personally, I got into writing reviews by exploring my own curiosity about surfing products. It was never meant to be a "career". I wanted to learn more about surfboards, wetsuits and board shorts. What made them great, why they sucked, and who provided great value. From there it grew into a website called Empire Ave and a decade-long career of evaluating products that improve our browsing experience. Now I'm here, on Surfline, to share these insights, thoughts, and feedback that I've gleaned from a decade of testing.
We do not (and will not) charge for items in our Surf Gear content series. There's no pay for game effort or shabby handshakes under the table. If it does, I will literally lose my job.
– Lincoln Ether