The pope has reaffirmed his opposition to abortion in the wake of the controversial overturning of the US ruling Roe v. calfand described the medical procedure as akin to "hiring a killer".
The Pope made the comments during a 90-minute interview with Reuters news agency at the Vatican on Saturday, although the article was not published until Monday morning. The interview came just a week after the US Supreme Court on June 24 overturned the 1973 ruling that enshrined women's nationwide rights to medical abortions.
Pope Francis was asked about the court's decision but said he did not have enough information to speak about it from a legal perspective. Instead, he reiterated the teachings of the Catholic Church that life begins at the moment of conception.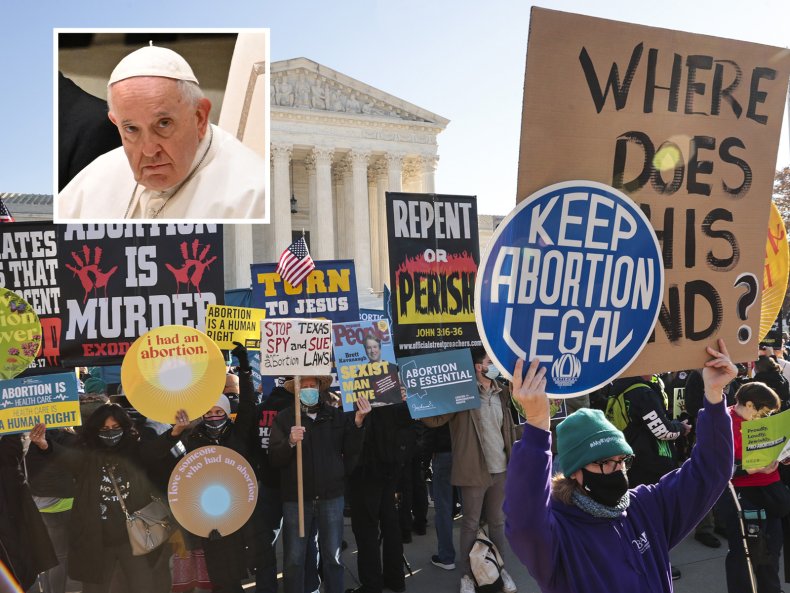 He reportedly compared abortion to "hiring a killer" and said, "I ask: is it legitimate, is it right to take a human life to solve a problem?"
It's not the first time the Pope has made the controversial comparison. As early as May 2019, he said at a Vatican-sponsored anti-abortion conference: "Is it permissible to throw away a life to solve a problem? Is it permissible to hire a hitman to solve a problem?"
But he also said that his opposition to abortion was not a religious issue but a human one, during the same event. And despite his strong words condemning abortion, he has also previously expressed his sympathy for women who chose it. He also made it easier for them to be absolved of what Catholics see as the sin of abortion.
Earlier in the weekend's Reuters interview, the pope was asked about a debate in the US over whether a Catholic politician who supports the right to abortion for others should be allowed to receive communion.
For example, House Speaker Nancy Pelosi was banned from receiving communion in churches in her home diocese of San Francisco in May.
When asked about this, the Pope replied: "When the Church loses her pastoral character, when a bishop loses his pastoral character, it creates a political problem. That's all I can say."
When Archbishop Salvatore Cordileone publicly announced that the California Democrat would no longer be allowed to receive communion in San Francisco, he said the move was due to her stance on abortion and was "purely pastoral, not political."
In a letter released to the public, Cordileone wrote: "After numerous attempts to speak to her [Pelosi] To help her understand the grave evil she is committing, the scandal she is causing, and the danger to her own soul she is risking, I have found the point has come where I must publicly explain that she shall not be admitted to Holy Communion unless and until she publicly repudiates her support for the "right" to have an abortion and confesses in the Sacrament of Penance and receives absolution her complicity in this evil."
However, Pelosi regularly receives communion at a parish in Washington, DC, and last week she received the sacrament at a papal mass at the Vatican.
In October 2021, Pelosi and the Pope met at the Vatican. No details were given about their meeting, but Pelosi later described it as a "spiritual, personal and official honor."
A month before their meeting that year, The National Catholic Reporter Pope Francis asked how the church should respond to parishioners who support abortion rights. The pope reportedly said he would "never" refuse anyone communion. "No, I have not refused the Eucharist to anyone, anyone! I do not know if anyone has come to me in those conditions, but I have never refused them the Eucharist since I was a priest."
news week has reached out to the Press Office of the Holy See, which represents the Pope and the Vatican, and Pelosis' office for comment.
Pope Francis dismissed rumors he was planning to resign and laughed at claims he was suffering from ill health. However, he reiterated his position that he might one day resign if he became unable to lead the church. When asked when that day might come, he replied: "We don't know. God will say."
Bookmakers are already taking bets on who will replace the Pope if he decides to retire.
Update 7/4/22 10:17 PM ET: This article has been updated throughout.