Long delays, mass cancellations and overcrowded planes have made air travel an endurance sport for even the most experienced traveler. And the challenges may be even greater for the more than 25 million Americans with disabilities that make travel difficult even in ordinary times.
A handful of airports, airlines and community groups have made efforts to allow certain passengers the ability to navigate through security, crowded airport terminals and the boarding process in advance. But such programs are limited, and the industry continues to have a poor track record of transporting wheelchairs and scooters and providing reliable and consistent services to passengers with additional needs such as mobility and physical issues, as well as sensory and cognitive disabilities.
Minneapolis St. Paul International Airport wants to change that.
In an industry first, the airport installed a replica aircraft cabin onsite in May – in partnership with Delta Air Lines – to allow passengers with a variety of special needs to become familiar with a realistic aircraft cabin.
"The opportunity to test-drive an airplane cabin could help people who have never flown, wheelchair users, older adults, people with autism and anyone who has reservations about flying," said Eric Lipp, executive director of the Open Doors Organization. which works with companies on accessibility issues, "will recognize that everyone's needs are different and will encourage more people to fly."
In the two years leading up to the pandemic, nearly 15 million people with disabilities traveled by plane, bringing in $11 billion in revenue for airlines. According to a report by the organization, that was an increase from $9 billion in 2015. And he said, "The true economic impact is potentially twice that, given that people with disabilities typically travel with one or more other adults."
Used to train Delta's flight crews in Atlanta, the 33-foot cabin includes a (non-working) lavatory and 42 standard coach seats from a retired Boeing 737. Delta shipped it in pieces to Minneapolis Airport, where it was installed rebuilt on an unused retail space. Airport carpenters added cutouts so each row has a window, and local youth artists painted blue skies and landscapes on the cabin and surrounding walls to make them sensory-friendly.
"My son, Remi, 5, has autism and I felt it was important for him to experience the airport before the day of our actual trip," said Cassandra Welch, who recently took him to the mock cabin. "Remi did well and sat well in his seat and was able to see what the cabin looked like and what the airplane lavatory looked like."
Welch also brought her family and some relatives. "We will be traveling together in August so it was great that we could all be a part of this experience."
Tiffany Owen, a first responder, also wanted to give her travel companion a chance to learn about flying before booking a trip. Hazy, a rescue pit bull, is Owen's service dog and helps her manage stress and anxiety. The visit was arranged by Soldiers 6, a local nonprofit group that provides service dogs to military veterans and first responders in Minnesota.
"I've flown before, but Hazy has never been on a plane," she said. But Hazy quickly got the hang of it. "When we walked in, Hazy wanted her own seat next to me," she said. "I had to teach her to recognize that she was on a plane and she would be sitting on the floor between my legs."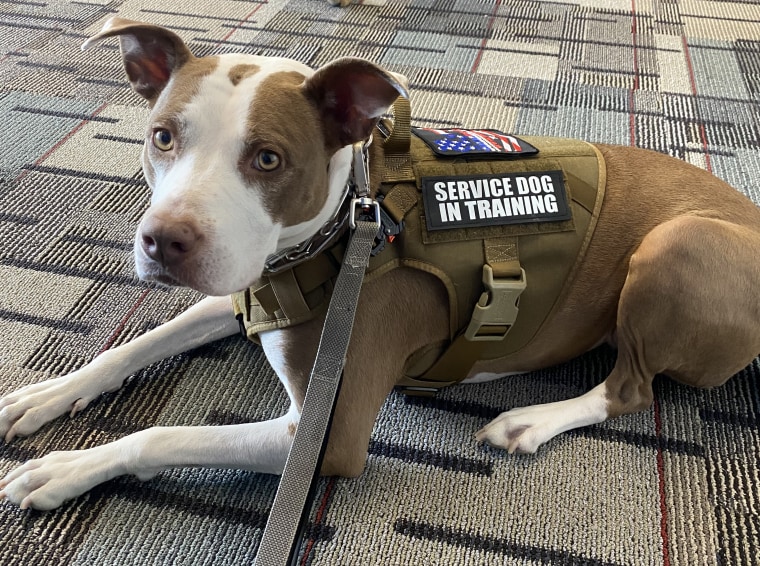 Owen said it means a lot to her that the airport has "made great efforts to ensure both I and my service animal are comfortable and that we can return to the airport for further training if needed."
The model cabin, which is available free of charge by appointment, is not only for pilots.
Flight staff, flight crew and companies serving passengers who need assistance getting to or from their aircraft seat also have access to the cabin for training.
The Minneapolis-St. The Paul branch of Prospect Airport Services, which provides wheelchair attendants and other services to airlines at airports across the country, now conducts weekly staff training sessions in the mock cabin. A major focus is transferring wheelchair users to their seats, which can be a complicated and delicate process.
Loretta Halligan, the company's general manager at Minneapolis Airport, said that the briefing for new passenger service assistants prior to the mock cabin's arrival took place primarily in a classroom with a wheelchair, an airplane seat, and a video. The actual training on how to transfer passengers only started when new employees could accompany someone with experience.
"Now new hires can immediately begin practicing lifting a person to and from an aisle chair in a 'real' airplane," she said, adding that watching a video "is nothing compared to that hands-on experience on day one." is of training."
That training could have been invaluable in the earlier days of the pandemic "when social distancing made it difficult to lift people and get them into vehicles or planes," Lipp said. "Leading the blind also became more difficult with social distancing."
Although the mock booth has only been open for about two months, Phil Burke, deputy director of customer service at the airport, says the sessions book up well in advance. He also said that airports in Houston, Denver and Kansas City, Missouri, have contacted him and plan to install mock aircraft cabins in their terminals as well.
---