TOKYO – Former Japanese leader Shinzo Abe died on Friday after he was shot dead at a campaign rally in an attack that shocked a country where gun violence is all but non-existent.
Abe, 67, has continued to be a formidable political presence even after stepping down as Japan's longest-serving prime minister and campaigning ahead of Sunday's elections. He had just started a speech in the western city of Nara, near Kyoto, when gunfire was heard around 11:30 a.m. local time (10:30 p.m. Thursday ET).
Officials said one person has been arrested in connection with the shooting.
Abe was rushed to Nara Medical University Hospital after suffering cardiac and pulmonary arrest. The hospital announced his death just after 5 p.m. ET.
dr Hidetada Fukushima, a professor of emergency medicine at the hospital, said Abe had two gunshot wounds and no signs of life when he arrived less than an hour after the shooting. Life-saving measures including blood transfusions were unsuccessful, he said, and Abe was pronounced dead at 4:03 a.m. ET.
Prime Minister Fumio Kishida later spoke to reporters and said Abe was killed in a "despicable and barbaric manner".
"I had prayed that he would somehow survive this, but our prayers have been in vain, and to get this message – I just have no words, just to offer my deepest condolences," Kishida said, red-eyed and tearful.
Kishida said the campaign for the upper house of parliament elections will continue on Saturday. Abe, who resigned in 2020, campaigned for other members of the ruling conservative Liberal Democratic Party (LDP) but was not a candidate himself.
"I believe it is imperative that free and fair elections, which are the basis of democracy, be maintained," Kishida said.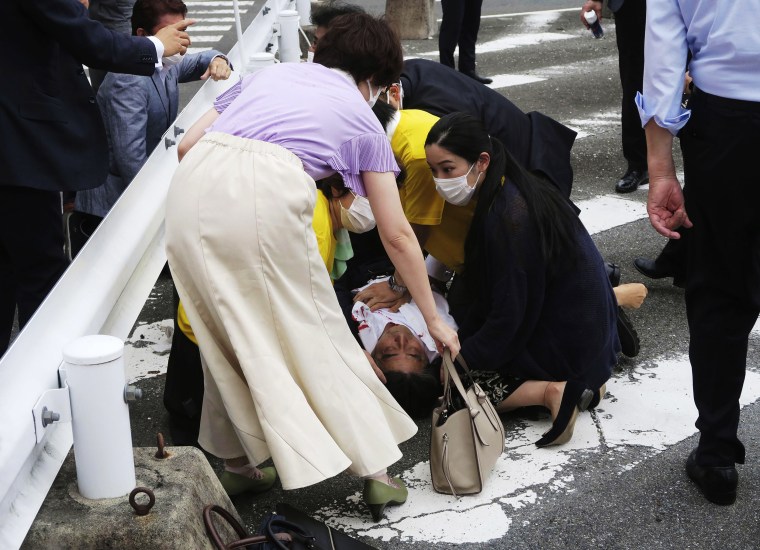 Abe dominated Japanese politics for almost a decade and has remained politically active since resigning, leading his party's largest faction.
The incident sent shockwaves through Japan, where gun violence is exceedingly rare. Handguns are banned in the country and people must undergo extensive testing, training, and background checks to obtain and keep shotguns and airguns.
Iwao Horii, an LDP member of the upper house representing Nara, was standing next to Abe when the former prime minister was shot. "We heard two loud noises while he was talking and he fell immediately afterwards," Horii said at a news conference. He added that Abe was unresponsive when paramedics tried to revive him.
"This is something that shakes the very foundations of democracy and cannot be forgiven," he said.
The shooting was also condemned by the country's main opposition party, the centre-left Constitutional Democrats, with party leader Kenta Izumi calling it an "act of terrorism".