RICHMOND, Australia — Hundreds of homes were submerged in and around Australia's largest city in a flood emergency that affected 50,000 people, officials said on Tuesday.
Emergency teams overnight rescued 100 people trapped in cars on flooded streets or in flooded homes in the Sydney area, said Ashley Sullivan, head of the State Emergency Service.
Download the NBC News app for breaking news and politics
Days of torrential rain have burst levees and burst waterways, causing a fourth flood emergency in 16 months in parts of the city of 5 million.
Evacuation orders and warnings to prepare to leave homes affected 50,000 people, up from 32,000 on Monday, New South Wales Premier Dominic Perrottet said.
"This event is far from over. Please don't be complacent wherever you are. Please be careful when driving on our roads. There is still a significant risk of flash flooding in our state," Perrottet said.
The New South Wales state government declared a disaster in 23 local government areas overnight and activated federal financial assistance to flood victims.
Ambulance Services Secretary Steph Cooke commended the skills and dedication of rescue crews to prevent death or serious injury through the fourth day of the flood emergency.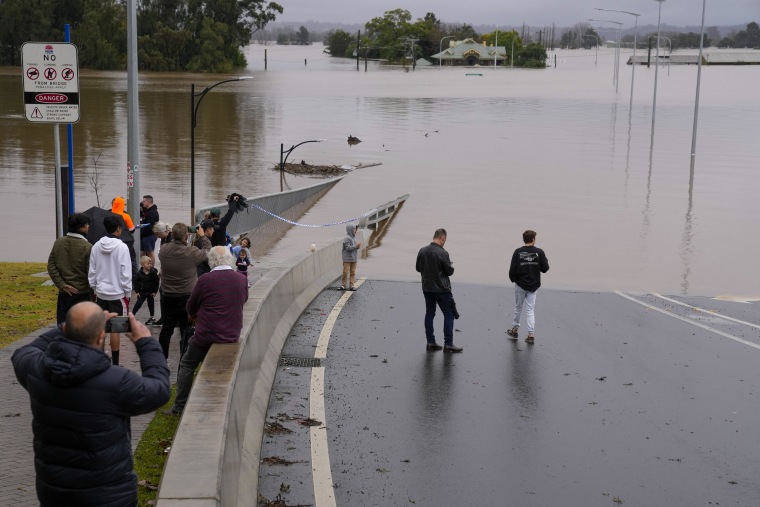 Parts of southern Sydney were lashed by nearly 8 inches of rain in 24 hours, more than 17 percent of the city's annual average, Bureau of Meteorology meteorologist Jonathan How said.
Severe weather warnings of heavy rain remained in place in Sydney's eastern suburbs on Tuesday. The warnings also extended north of Sydney along the coast and into the Hunter Valley.
The worst of the flooding occurred along the Hawkesbury-Nepean river system on Sydney's northern and western fringes.
"The good news is that it appears to be mostly dry through tomorrow afternoon, but of course we are reminding people that these floods will remain very high even after the rains have stopped," How said.
"It rained heavily overnight and that means some rivers are peaking for a second time. So you have to take many days, if not a week, to see these tides recede," How added.
The residents of Lansvale, in south-west Sydney, were surprised by the speed at which their area was flooded and the increasing frequency of such flooding.
"Well it happened in 1986 and 1988 then it didn't happen for 28 years and so 2016 and 2020 and now it's happened four times this year," a Lansvale local, identified only as Terry, told the television the Australian Broadcasting Corp that his home will be flooded.
The wild weather and mountainous seas along the New South Wales coast thwarted plans to tow a wrecked cargo ship with 21 crew members to the safety of the open sea.
The ship lost power on Monday morning after leaving Wollongong Harbour, south of Sydney, and risked running aground in 26ft waves and winds that blew 34mph against cliffs.
An attempt to use tugs to tow the ship out to sea ended when a tow line snapped in a 36-foot swell late Monday, Port Authority chief executive Philip Holliday said.
The ship held its position farther from shore Tuesday than Monday with two anchors and the help of two tugs. The original plan was for the ship's crew to repair their engine at sea. The new plan was to tow the ship to Sydney as early as Wednesday when weather and sea conditions calmed down, Holliday said.
"We're in a better position than yesterday," said Holliday. "We're relatively safe."
Perrottet described the tug crews' response Monday to rescue the ship as "heroic".
"I want to thank the men and women who were on those crews last night for the heroic work they did in incredibly treacherous conditions," Perrottet said, calling it "incredibly impressive."