Lead liquidator Jason Tracy said about 35,000 customers had either paid in full or made a deposit for their trip at the time of his appointment.
The bankruptcy trustee's report, sent to creditors in June, said it recovered $1.2 million in refunds for 587 customer bookings.
"I work shifts and I've saved a hell of a lot for it and I can't stop and I'm not giving up."

Lara Collin, who has $15,000 out of her own pocket
Deloitte is holding this money in trust and has petitioned the court to allocate it to these individual clients rather than pooling it in the general pool.
Tracy said in some cases the travel suppliers did not receive the money from STA Travel.
His position was that since STA Travel was acting as an intermediary with the authority to issue tickets, the financial risk was legally with the travel suppliers and they should honor the bookings anyway. Some tour operators were on board, others resisted.
Some customers have been able to file a chargeback with their credit card company or claim their travel insurance.
But Tracy said an unknown number of customers have not received refunds and are unsecured creditors. There is no money left for them when legally protected groups such as employees receive their claims.
Tracy said escrow accounts could have helped protect client funds.
"Trust accounts in relation to deposits would have been very helpful because the funds could then not be used for general working capital purposes," he said.
"However, it could have meant that the company was insolvent earlier because they didn't have those cash flows available and therefore couldn't have traded for as long."
Lara Collin, 25, from the Central Coast is one of the unfortunate customers whose booking is not among the 587 listed.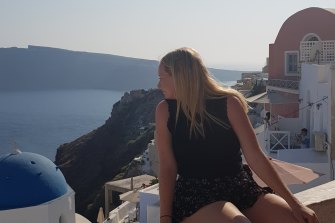 Collin, who works in elderly care, paid $15,000 for two Contiki tours to the United States scheduled for 2020, having previously toured with them in Europe.
Collins' trip had to be canceled due to the travel ban during the COVID-19 pandemic and she requested a refund, which she would like to use as a home deposit. But she wasn't even told if STA Travel or Contiki had their money.
"I work shifts and I've saved up a hell of a lot for it and I can't let it go and I'm not giving up," Collin said.
"I will never book through a travel agent again. I know we can't help a pandemic, but I don't think they handled it properly at all."
The Australian Federation of Travel Agents declined to comment on escrow accounts, but Chief Executive Dean Long said one in three travel agents had closed during the pandemic and "almost all were managing this process in an orderly and reasonable manner and with minimal disruption the transfer of consumer bookings to other agencies".
Loading
Travel companies had received more than $9 billion in refunds and credits for traveling Australians during that time.
The Australian Competition and Consumer Commission declined to comment, while NSW Fair Trading did not comment by the deadline.
The Morning Edition Newsletter is our guide to the day's most important and interesting stories, analysis and insights. Sign up here.